I was standing in aisle 9 when I saw her from a far. She was an old friend, a strong believer from my childhood. I hadn't seen her for years but through social media I knew she had gone on to a prestigious college, found success in a very competitive industry, gotten married and had a few kids. The American dream right? As we neared each other in the aisle the hum of florescent lights in the background, I reached out to embrace her while my lips uttered the age old question: "How are you"?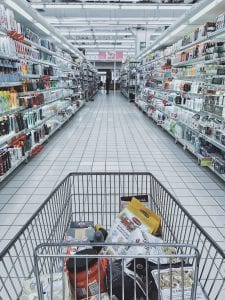 Her shoulders instantly sank her and smile faded. (Admittedly I hate the question myself, how do you even answer this vague question in a way that makes sense?) She dove right in, telling me how her career was going great, in fact she had most recently received a promotion. However, she began  to explain the struggle she has experienced in seeking to honor God both in her career as well as in her role as a wife and mother.
I stood in that aisle for ten mintues and tried to encouraged her in both fronts, in both callings. I shared how I know this struggle all too well. This struggle and this pull has played a big part in my years as a mother and a wife. As we left I told her I would pray for her as she considered stepping away from her work all together for a season to focus on her calling in the home. This conversation, this same struggle is happening in aisle 9, in the church nursery, and in conference rooms & cubicles all across this country.
I walked away heavy, I always do. I finished my shopping with thoughts of my friend trying to find her balance in both career and in the home, my friends who are called to stay home and the sacrifice that often means for their families, for the friend who has been called to a full time career all the while feeling guilt over not being able to do everything the stay at home moms do.
I got in my car and it hit me, we are a generation of moms (and dads, and singles) with a deep fear of missing out, of missing out on our calling. (Or some calling we feel we should have) That's right, FOMO isn't just for those hipster millennials.
We are a generation of women who have been told we can have it all. We can break that glass ceiling, raise intelligent STEM geek children, be our husbands biggest cheerleader, cook all organic meals for our family and be the number one church volunteer.
And when we don't or can't do all of those things we are left feeling like we have missed our calling and that we are missing out. 
Friends, this is not what God had in mind for us. The scriptures are clear. We fear, because we have forgotten. We have forgotten who we were called to be.
"Before I formed you in the womb I knew[a] you,
before you were born I set you apart;
I appointed you as a prophet to the nations."
6 "Alas, Sovereign LORD," I said, "I do not know how to speak; I am too young."
7 But the LORD said to me, "Do not say, 'I am too young.' You must go to everyone I send you to and say whatever I command you.
8 Do not be afraid of them, for I am with you and will rescue you," declares the LORD. (Jeremiah 1:5-8)
It's time to forget the fear.  Here are 3 simple steps to jumping out of our fear and living in the calling Christ has called you to (whatever that might be). There are some great scripture that God has given us with people who faced some of these very same fears.
Stop trying so hard to prove to the Lord something about you
Exodus 3&4
Focus your work, whatever that may be on the fame of the name of Jesus Christ
Matthew 28
And lastly friends, stand firm letting nothing move you. Be encouraged, your work is not in vain. No matter if you are climbing the corporate ladder God has called you to, cleaning the house God has gifted you with or sharing the gospel with that neighbor kid that never seems to leave…your work matters and you can be confident that when you are focused on honoring Him you are not missing out on anything!
Therefore, my dear brothers and sisters, stand firm. Let nothing move you. Always give yourselves fully to the work of the Lord, because you know that your labor in the Lord is not in vain.
1 Corinthians 15:58